Bollywood has forever held our fancy. Not just the glitz and glamour of the cinematic world but also the elements that are so quintessentially Bollywood have forever enticed us into the dreamy confines of wonderment and anticipation.
Undoubtedly, reel cannot translate completely into real. Unfortunately so. Bollywood has built up its own dreamy expanse of (mostly) love struck emotions and situations that just don't allow us to enjoy 'realistic bearings' anymore!
So, very often than not, we find ourselves dwelling in some place on the borderline of sensibility and imagination. Outrightly outrageous ones at that.
Our hearts have been captured, and our minds so intensely set on the bedlam of extreme emotions that Bollywood generates that we find our senses fluttering to the means which can translate our Bollywood fantasies into reality.
MY HEART ON YOUR SLEEVES!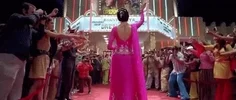 Is it even love if drama does not inevitably precede it? Never. Bollywood has so romanticised those heroines with their fluttering dupattas getting stuck to love lorn guys' watches or shirts that it's impossible for us to imagine our love story devoid of any such epitome of romanticism. This one moment, therefore, surely ranks high on our list of living the Bollywood life.
YOUR LIFE IN MY ARMS!
So now that you have your love story on track, here comes the next unavoidable phase of love- the Bollywood style. The heroine slipping and landing directly into the lover's arms is another of those epic awesomeness that tinsel town has endowed us with. Though with the changing times, it's equally likely that the hero might slip as well! In any case, another one of our fantasies.
LIBERATION, BOLLYWOOD STYLE!

Cut out love now! Free willed spirits of today yearn more for adventure trips with friends- the Yeh Jawaani Hai Deewani way. And if it leads you on the path of another of those dreamy romances, the better!
PASSPORT TO HEAVEN,UH?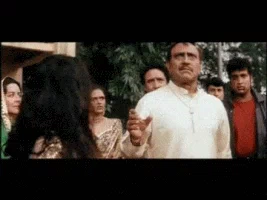 So while it is trips now, things were simpler in the days of yore. But even now, all we wish for is the "Jaa Simran, jee le apni zindagi" wala moment, in the hope that it will really, seriously redefine our mundane lives someday!
HAPPILY EVER AFTER?!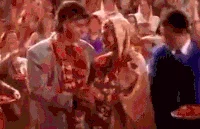 Romance and dreaminess is all fine but love without suffering is no love at all. So while heartbreak and pain follows, what we yearn for is the kinda destiny that always unites you with your love. Only if this wasn't mere Bollywood stuff!
OUT OF SIGHT AND YET IN MIND!
Okay, this isn't just Bollywood. Invisibility has been explored in perhaps every figment of the virtual world, but the Bollywood phenomenon Mr. India remains unparalleled. A cult then and an enigma even now, we all wish to have our moment of unheralded glory by hailing Mr India!
CLAIM TO FAME?
Bollywood can even be fishy at times, but who cares? We still hanker after the bait! Alien and superhero encounters are all so common within the Bolly way of life. But for me, it is the super adorable Jadoo in Koi.. Mil Gaya and the fun with him that rounds up my Bollywood fantasy wish list!