A versatile actor, an unconventional artiste and a true star in his own mighty right, Nawazuddin Siddiqui is definitely one of the worthiest phenomenons of Bollywood. However, a conscious attempt to stay out of the public glare makes this remarkable actor a rather low profile individual. Here are some facts about the man you probably don't know much about-
Nawaz's most favorite actor and role-model is Ashish Vidyarthi. No wonder, the Maanjhi actor exudes unconventionality in his craft just like his inspiration.
Nawzuddin's childhood has been a tale of paradox, as despite being born into a zamindari Muslim family of Numberdars, his early life was deeply steeped in poverty.
Source: India Today
Nawazuddin intended to study chemistry and microbiology so that he could become a pathologist. In fact, he also enrolled at the Gurukul Kangri Vishwavidyalaya in Haridwar and worked as a chief chemist in SCME Petrochemicals in Baroda for almost 3 years.
Source: Quora
Siddiqui also got himself enrolled to the dramatics school at the Maharaj Sayajirao University and later at the Bhartendu Natya Akademi in Lucknow.
Source: YouTube
The to be actor ventured into Delhi in 1992 as he wanted to do something different and wanted to learn acting from the prestigious National School of Drama. He did manage to get into the NSD, but not before he had struggled his initial days out in Delhi as a watchman.
While hanging around at NSD, Nawazuddin served tea to artistes and crew besides sweeping the stage and graduated to doing small roles in plays.
While in Delhi Nawazuddin had joined the Sakshi Theatre Group. In Uljhan, a play with the Sakshi group, Nawazuddin had a rather unconventional role. He 'enacted' a tree and stood still with his hands raised as branches for 2 hours. The reason he chose to do that role was because it had Manoj Bajpayee as the lead protagonist.
Source: BookMyShow
Nawazuddin's first ad campaign was Pepsi's Sachin Ala Re campaign as a dhobi for which he was paid 500 rupees.
Finally in 1999 he made his Bollywood debut with the film Sarfarosh. However, Nawaz only had a blink and miss role in his first movie.
Source: Cutting the Chai
Nawazuddin also starred in the much popular 2003 film Munnabhai M.B.B.S as a pickpocket.
Source: Official website of Meerut
In Kabir Khan's New York, Nawaz played a Muslim man wrongly accused of terror activities. His on-camera monologue expressing his character's torture and humiliation was the real account of his own 11-year struggle in Bollywood. This particular performance, though in a miniscule scale, was significant because of its authenticity. In fact, the emotion portrayed through this scene stirred one of Bollywood's another finest actor Irrfan Khan.
Source: QuirkyByte
Nawazuddin's early life in Buddhana town in Uttar Pradesh came to be the X factor later on in his career. Most of his characters are majorly influenced by the people he grew up with in his home town.
His brother Ayaz served as the inspiration for the character of Tehmur in Talaash (2012).
Also, the gruff Intelligence Bureau officer Khan from Kahaani(2011) is a character that has been based on the actor's cousin.
But perhaps the most remarkable influence has been the celebrated character Shaikh from Ritesh Batra's The Lunchbox(2013). Siddiqui's former roommate Mukesh Bhatt, who would greet him every day with "Arrey, sir! How are you, sir!" was the reference for the actor's role in the film. The
cheery "Kaise hain, sir!" Siddiqui blurted out to Irrfan's character Saajan every time they meet is so much an endearing cinematic moment.
It was only 12 years after he made his debut that Siddiqui hogged the limelight with two big releases in 2012- Kahaani and Gangs of Wasseypur.
Kahaani saw Nawaz smartly dressed in suits for the first time. But even as an actor par excellence, Nawaz's parents had to change two buses and travel 40 km to see their son on the big screen.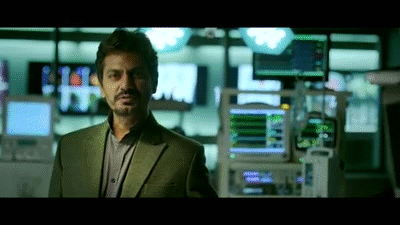 Nawazuddin Siddiqui's love life is no less dramatic than a filmy affair. A live- in relationship with his girlfriend Anjali that broke down, a short marriage with Sheeba that ended in a divorce and a rekindle of the romance with Anjali that finally culminated in wedlock, Siddiqui definitely had a roller coaster ride in love.
Source: Biographia
Nawazuddin was also in a short relationship with his Miss Lovely co star
Niharika Singh. Interestingly, an on screen kiss with Niharika in the film also happens to be the first of Nawaz's life!
Source: IBTimes India
Even when Siddiqui has been seen mostly in real life based commonplace roles, he dreams of playing the character of Prince Salim in Mughal-e-Azam.
Now follow INNFINITY at Flipboard
One of the most genuine actors of tinsel town now, Nawazuddin's struggles extends even to his initial Cannes appearances. The actor donned a single suit for numerous of his appearances on the Cannes red carpet. This was because he did not have more than one of those formal suits. Luckily for him, no one even seemed to be bothered about the fact that a star was repeating his dress! Good luck charm maybe?
Source: The Quint
Siddiqui had even faced a time when all he had was tea and glucose biscuits as his three square meals. Even worse, he once fainted out of hunger.
As an actor who charms with his realistic portrayals on screen, it's hard to believe that Nawazuddin did not have much exposure to films during his childhood. A boy Nawaz had seen a bare five films before coming to Mumbai.
Though Nawazuddin Siddiqui's experiments in Bollywood has been more as a ruffian and an antagonist, in theater however, he was typecast as a comic actor.
The dedicated, realistic actor that he is, Nawazuddin used an original axe while enacting the role of Dashrath Manjhi.
As a star with a global fan following now, Nawazuddin remains surprisingly modest. Even now the actor prefers to go back to his village to farm on his ancestral land for his vacations! Siddiqui even shared pictures of him riding the tractor and ploughing his field on his social accounts.
Source: starsunfolded.com
For an actor that plays the notorious bad man in most of his films or otherwise a strongly resilient character, Nawzuddin Siddiqui is a rather withdrawn person.