Fashion is no mean matter. One wrong style move and you are already the laughing snob of the world. Yet with not every one being blessed with an impeccable style sense, it's inevitable that fashion faux pas are horrifyingly real. Therefore, to save fashion from further disgrace, we have taken it upon us to bring to you certain style hacks that will ensure you slay the game as the ultimate fashionista!
Slaying in sarees
A saree has a seriously uplifting appeal that can transform your very look. However, a lot of the flair you carry while wearing the iconic Indian saree depends on how and what you are wearing. A heavy material will make you look bulky while draping a lighter fabric like chiffon will endow you with a graceful, flowing silhouette.
And if you want to give off the allure of a slender, lean figure, then you should be opting for a borderless saree, rather than those with hugely detailed, wide borders that tend to make you put on a lot of 'weight'.
Slimming down with stripes
Striped and checkered dresses have this amazing ability to make you appear a bit different from your regular look. However, there needs to be some caution exercised when you don on stripes.
Because verticals and pin stripes have this effect of adding a few inches to your height, horizontal stripes does just the opposite. The sleeping parallel lines make you appear bulky, so if you are someone already chubby, you would be better off without the stripes going round your body.
Sole rule of trousers
A formal pair of trousers tends to get creased more often than jeans. Particularly, if it isn't the right length and fit, all that extra cloth sits down, lending it a saggy appearance. To buy a pair of just the desired length, make sure the suit bottom touches the shoe sole while standing.
Weather the leather
Leather jackets look all swanky and classy, but to find the perfect fit that flatters your figure, while hugging on your arms perfectly can be a tedious affair. The easy way out- wear your (brand new) leather jacket in the rain to have a snug cover embracing you with just the perfect warmth and stylish allure.
Jazzing up the jeans
Are you tired of your jeans untiringly fading off every time you wash them? That's because jeans are not intended to be washed as frequently as we do. Though it might be gross, but jeans become more 'wearable' after you have slipped into them a couple of times. And anyway, frequently washing denims robs them of their natural shine and renders them unflattering to the eyes.
Unwashed jeans imparts a more natural faded look to them, that is more often appealing and also the 'right' way to wear them. Jeans need to be put off being in the laundry till they are really soiled and smelly. But even then, you can try keeping your pair in the freezer overnight to rid them of the smell of wear.
Belting around
When it comes to accessorising up, belts are one very versatile but often overlooked fashion add on. Whether it be to hold those slightly loose pants up in place, or to achieve the look with a tucked in shirt or even to take your outfit to a whole new level, belts can be surprisingly stunning essentials. But wearing a belt does not necessarily mean they need to go round the loops or be buckled up.
There are numerous ways in which you can lend belts an elevated standing in your style directory. Either tie them around freestyle to accentuate your curves. Or tie unconventional belt knots to add some drama to your regular outfit.
Tale of the toes
Getting your feet into the right shoes of the right type with just the right fit is a trickious affair. Your current pair might be boring into your skin, while the very next size can turn out to be a slip off. So how to find a size that's just the one custom made for you?
The solution is simple and a bit surprising as well. Put a water filled plastic bag inside your a-bit-too-tight shoes and let them rest overnight inside the fridge and jump around with joy in the pair that will expand to be just your type!
The sync of colors
So now that we are even with belts and shoes, we have a style hack that's a combination of the two. Avoid being a fashion disaster by wearing dramatically different colored belt and shoes. Always try to find a belt in a color that matches your footwear. Or if you fail to find the exact match, at least try to go for different shades of the same hue.
Now follow INNFINITY on Behance
Shoe shine
Polishing your shoes is another matter that needs to be paid close attention to if you want to stand out. But if you have run out of shoe polish but need to attend an urgent meeting in your sparkly shoes, fret not.
Feast on a banana and use all of your just acquired energy to polish your shoes with the banana peel! While this might come off as insane, this is a trick that works even better than regular polish. Just remember to pat your shoes dry with a clean cloth. Voila, one more reason to include bananas in your diet!
Pretty smelling shoes
And while you are at it polishing your footwear, breathe some fresh life into them as well. Use some baking soda to rid your shoes of the foul feet odour to have happy, pretty smelling feet. Putting some dry tea bags in your shoes should also work just fine.
Don't lather when it's leather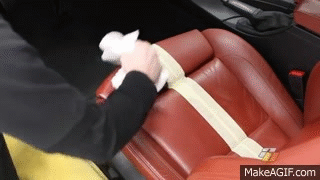 And while all things leather appears sleek and shiny, cleaning a leather jacket or bag or even shoes very often turns out to be a headache. But there's quite an unusual solution to that- try window cleaner on your leather accessories and you will be ready to shine on with all that leather gloss every time you choose to step out in style!
Shoes that look like second skin
Everyone doesn't have a flattering height and ready to flaunt, athletically slender legs. But if the look of a leggy beauty is what you aspire to achieve, wear pumps in a color that matches your skin tone. That way, the shoes seem to be an extension of your skin. So you appear taller than you are!
Wrinkleasing out!
Wrinkles are so much of a mess. They can instantly kill your look and all the impression you had been planning to make. But being a lady and having a hair straightener just about offsets all those worries. For days when you don't have much time to spare, the straightener can do wonders. And not just to your hair. Clothes that need a last minute touch up wouldn't find a better ally than the hair straightening iron.
Stain free style
Style hacks are incomplete if you don't turn out primmed and proper every time you dress to impress. Here's a handy guide to how you can turn out to be the star of the show at every occasion-
Ink stains and spots can be gotten rid of by rubbing hand sanitizer on them.
Baby powder can make oil stain vanish overnight while baby wipes will most certainly wipe out deodorant stains from clothes.
Sweat stains can be eliminated by rubbing a piece of lemon over the spot, before washing them off.
Shaving Foam is an effective remover of stubborn make- up stains.