Ah! pizza- that heavenly slice of melt- in- your mouth cheese, with the choicest toppings, spruced up with oregano and chili flakes, and paired with your favorite drink- this is what happiness must feel like. And if you are a die- hard pizza lover whose only whims and fancies rest on that rotund piping hot bake, then you can really, really, really relate to our pizza obsessed manual!
EVERY TIME IS PIZZA TIME!
 You would want pizza for breakfast, lunch and dinner. Also for snacks. And for pre- breakfast, post- lunch and even mid- night cravings, pizza is the only thing for you!
PHONE- A- PIZZA!
Your contact list is cluttered with details of Dominos, Pizza Hut and other pizza outlets, and even your call log spells pizza throughout. And in really desperate cases, you can even have separate caller tunes assigned for your other contacts and for the pizza wala numbers so you know that exact call which you cannot miss!
THE PIZZA RELISHER!
Doesn't matter if you can't even finish a single course meal in one go. But you have pizza and you can go on and on chewing on that cheesy deliciousness till it is the  pizza that finishes off and not your craving that satiates!
PIZZA FIRST!
The health freak that you are with your strict relation to green tea somehow gets marginalised even by the calories that come loaded with any standard pizza. Because for you with pizza, it's pure love, nothing else!
PIZZA IS BAE!
You don't eat pizza for a day and you might as well slip into depression. Such is your attachment that even your bae becomes secondary when it comes to pizza!
PIZZA=CAKE FOR YOU!
Birthdays are meant for cakes. No, you would argue! For on your special day, its pizza that you would want, more than anything else!
INTOXICATED LOVE!
The smell that engulfs your vicinity with every pizza unpacked only makes you keep longing for your love even more!
PIZZA FRIENDS!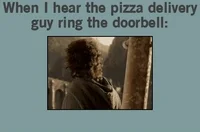 You have ordered pizza so many times and so often that the delivery guy becomes a frequent visitor to your place, even more than your bestfriend. Now, that's enough proof of your love!
MORE LIKE 'LIFE OF A PIZZA'!
You are so into pizza that your every tale begins, revolves and ends with pizza. It's more like it's pizza that makes your life somewhat interesting!
NO SHARE, NO CARE!
Sharing your secrets is fine with you, but someone asks you for a slice of your delight, and you are ready to knock them out with one solid punch!