4 ½ Years of Struggle against Lies, Stupidity and Cowardice. A Reckoning – Mein Kampf was originally written under this title by Adolf Hilter which is the best piece of published Nazi works. He started writing this book in the year 1924 while lodged at the Landsberg prison. Mein Kampf which translates to "My struggles" is part autobiographical and partly a treatise on the politics and the key components of Nazism. From 1925 to summer 1945, it sold over 12 million copies and was translated into more than a dozen languages, including a braille edition for blind Germans.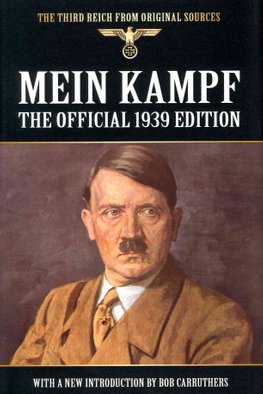 It is said that beyond the main motivation of writing a political book, it was also the need of money that drove Hilter to write and publish Mein Kampf. According to estimates by historians, by the end of the Nazi period, over 11 million copies had been sold – and that's only in the German version. These high numbers yielded respectable royalties and Hitler, in order to not imperil the high income, prohibited the sale of used copies, such that officially, one could only purchase new copies of the book.
Commemorating the date of its first publication on 18th July 1945, these are ten quotes from the Mein Kampf which gives an insight into the thoughts of Adolf Hilter:
"The Strong Man is Mightiest Alone."
"The only preventative measure one can take is to live irregularly."
"Obstacles do not exist to be surrendered to, but only to be broken."
"He who would live must fight. He who doesn't wish to fight in this world, where permanent struggle is the law of life, has not the right to exist."
"Industry, technology, and commerce can thrive only as long as an idealistic national community offers the necessary preconditions. And these do not lie in material egoism, but in a spirit of sacrifice and joyful renunciation."
"Whenever human activity is directed exclusively to the service of the instinct for self-preservation it is called theft or usury, robbery or burglary etc"
"In this world is not the creative act of the genius always a protest against the inertia of the mass?"
"Posterity will not remember those who pursued only their own individual interests, but it will praise those heroes who renounced their own happiness."
""Whatever definition we may give of the term 'public opinion', only a very small part of it originates from personal experience or individual insight. The greater portion of it results from the manner in which public matters have been presented to the people through an overwhelmingly impressive and persistent system of 'information"
"When diplomacy ends, war begins."
Hail Hilter! Hail Mein Kampf!