The world abounds in facts shocking enough to leave you gaping. But perhaps it's this weirdity of the world wherein lies its spirit of noir adventure. Following is a compilation of 33 shocking facts of the world that was kept a secret-
#1 Smiles that are not genuine can be fatal.
All of us have faked a smile at some point of time or the other. But a smile which is not the effect of happiness can in fact be killing you. Because people who have to smile even when they are feeling bad can feel more miserable due to having to meet the expectations of the world.
#2 Each individual in the world has a unique tongue print.
Just like each person's finger print is a harbinger of their identity, so is their tongue print. With its distinctively patterned print, tongue can be as vital in disseminating unique identity information as does finger prints.
#3 Humans experience a depreciated sense of smell and taste at higher altitudes.
This explains why most of us don't find our on- flight food very appetising. With significant reduction in sensory perception by about 20 to 50% during flights, it's only natural that only a few things appeases us up above there.
#4 Ants outweigh humans on this earth.
Sounds a bit fishy, but they sure do. The total weight of all the ants dotting our planet surpasses the weight we have been putting on mother Earth. Tiny ant vs mighty humans– we aren't sure!
#5 The ashes of the inventor of the Pringles can was buried in one.
American organic chemist Fredric Baur who invented the Pringles can had a rather weird 'aakhri khwahish'. He asked for his ashes to be buried in one of his iconic creations when he would pass away.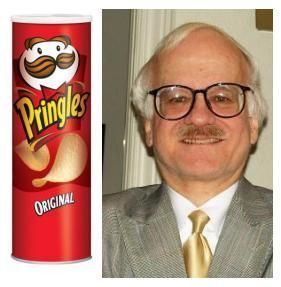 And indeed they were, in a can placed beside his urn in his grave.
#6 Ballpoint pens can be a easy- squeezy home for a mouse!
These tiny rodents can easily fit through a hole, the size of a ballpoint pen. Not that's what we call squishy flexibility!
#7 We wake up taller in the mornings.
Actually, what's more true is the alternative. We wear away as the day does, which means that we are roughly about 1% shorter in the evening than in the morning.
#8 Pineapples takes about 3 years to grow.
Delicious and super juicy they might be, but three years is a seriously long wait for even the "sweet fruit of patience".
#9 Work can kill more effectively than wars.
Because statistically, going to work is three times more dangerous than war. Another reason to not set the alarm for tomorrow!
#10 French was once the official language of England.
That too for 600 long years. And you thought only the British excelled at colonising other nations? They sure learned it from their former Monsieurs! France, the master.
#11 Technically, you can become a millionaire in less than a month.
You actually can. If you had $0.01 and doubled it every day, it would take just 27 days to become a millionaire. It's really that easy. I wonder why we aren't already stacking enough of those millions!
#12 You can tell hot water from cold by 'listening' to it!
That's because the pouring sound that water makes differes in accordance with its temperature. So next time you don't have to actually feel the water, just listen (and dance) to it!
#13 Blood can be a key ingredient in baking!
Believe it or not, but blood can very effectively be used as an egg substitute in baking. Because not only blood contains that protein found in egg that is so essential in baking but also because blood is nutritious (what with all minerals and compounds) and – hold your taste buds- delicious!
#14 Adolf Hitler wanted to be a priest.
Like every other kid, naive and innocent, Adolf Hitler too had wonderful life golas. As a child, Hitler had wanted to be a priest when he grew up. But turns out, not even Hitler gets what he wants.
#15 Our chances of being the descendant of someone famous are really, really high.
Specifically, with Genghis Khan, the odds of being related to this invader is 1 in 200. With his rampant ways that left Khan with more than just a couple of heirs, the thought of being one of his many descendants is not particularly appealing though!
#16 Apple was not the first ever iPhone manufacturer.
That honour goes to Cisco. In fact when Apple launched their own iPhone just 22 days later, it was sued by Cisco for trademark infringement. But with the matter settled out of court, Apple got the advantage and became synonymous with iPhones.
#17 Prairie dogs kiss one another to say hello!
I wish my crush would too. Too bad he ain't a prairie dog (that is actually a squirrel).
#18 Adult cats should never be fed milk.
That's because as cats grow older, they become intolerant to lactose as they lose out on the enzyme lactase, that which helps in the digestion of milk. In fact, milk tend to cause stomach problems in grown up cats.
#19 Paper bags are almost as bad as plastic bags.
This definitely would hit you hard but all that advocating for paper bags isn't much helpful. Because paper bags production require substantially more water than plastic ones and even when they are recyclable and bio-degradable, they still release methane on degradation.
#20 Toads can safely cross roads in Germany.
That's because people there are considerate enough to not let their amphibians thrive. With buckets lined along road fences that collect the frogs to be released safely later, Germany does has priorities balancedly sorted.
#21 Perfect 6-pack abs is the 'birth right' for everyone.
Abs are inherently present on all of us. It's just that some of us happen to be so layered that we don't think such gorgeousness can exist somewhere upon us. Just a proper diet can help you unearth those treasures you behold.
#22 Space smells very much like seared steak.
With a distinct odour that hangs somewhere between seared steak or hot metal, a space voyage would be definitely interesting. We would like to drool over searing steak though. Delicious!
Now follow INNFINITY at Bloglovin
#23 Cats pee to pronounce their fondness.
Cats peeing on your stuff would gross you out. It would even lead you ton believe that feline creature loathes you. But this isn't true. In fact, cats tend to pee on the things of the person they genuinely like. It's their way to mark their territory. Given how unattached cats can be, cats doing their task on you actually calls for celebration!
#24 Stinky sweat is gross misappropriation of body fluid.
Sweat isn't always stinky. It's the bacteria that makes it smell so filthy. That explains why you can sometimes sweat and smell like a pig while at other times you sweat and yet don't smell like anything.
#25 A Japanese man survived not one, but two atomic explosions.
Japanese man Tsutomu Yamaguchi has to be the luckiest- or equivalently, the unluckiest- man in the world. Because not only did he miraculously survive the first dropping of the atomic bomb while in Hiroshima, he also successfully evaded the second explosion two days later in Nagasaki. Thug life, oh yeah!
#26 An influential physics paper had a cat as a co- author.
That miracle happened in 1975 when an unwitting cat was made the co author of a paper of a subject as mind boggling as physics. Of course, the cat didn't write it. It was rather a stroke of luck that landed the feline this weird distinction. The cat was brought into the picture to act as the co author after the actual author Jack Hetherington had to justify the use of the plural pronoun 'we'. And thus Mr F. D. C. Willard, the cat author was born.
#27 There's a thing called water intoxication.
And no, it has nothing to do about drinking toxic water. Water intoxication occurs when you are overhydrated- that is, when you drink an excessive amount of water. And this isn't just a simple medical condition- it is even life threatening and can cause your death.
#28 A missing woman was once involved in the search for herself!
Not only is this bizarre but this also kinda plays with my mind. But it did indeed happen. In 2012, an Asian woman touring Iceland had indeed been part of a rescue mission trying to rescue no one else but herself!
#29 The brain is the fattiest part of the human body.
With a fat composition of about 60 percent, the human brain definitely qualifies us all to be called a fathead!
#30 Even the dead can get goosebumps!
This one is outright spooky, so let's just leave it here. But if you are still curious, check out how.
#31 Queen Elizabeth Is a Trained Mechanic
Whoever would have assumed Queen Elizabeth to just a royal lady with the crown would be in for a surprise if they had to deal with the mechanical abilities of Her Royal Highness. From knowing how to change a tire to fixing engines and even driving ambulances, the Queen is a total pro at stuff!
#32 Cold water takes longer to freeze than hot water
Courtesy what is called the Mpemba effect, hot water freezes in far lesser time that what it is required for normal water to achieve the same feat.
#33 Horses Sleep in 15-Minute Bursts
While we all delight at just how horses manage to sleep while awake, it's because they sleep in bursts. A cumulative three to four hours of sleep accomplished 10 to 15 minute sleep bursts just about explains it all.